Page Updated 09.06.18
Eco Club
Run by Mrs Willis - Wednesday 3.15 - 4.00
Our School Sustainability Map
Our Eco Code
Walking Wednesday
Footsteps - a Parents' Guide to teaching road safety.
Our Eco Song:
Please meet our Eco Warriors
These are some of the reasons that they wanted to join Eco Club:

I want to be in Eco Club because I want to help clean the planet and keep it tidy. Haydon

I want to make a better place. Katherine

I joined Eco to look after our planet. Jack

Because it sounds like good fun. Dexter

I love Eco Club because I enjoy it and I want to help with the chickens. Olivia

I wanted to join Eco because I love to help the environment. Tiffany
Eco Club Latest:
BNF Healthy Eating Week:
We are participating in BNF Healthy Eating Week from 11-15 June 2018.
The purpose of the week is to raise awareness of healthy eating, drinking, cooking, food and being active.
It is important that children:
have a healthy breakfast
have 5 fruit/vegetables a day
drink plenty
get active
Eco Club would like you to try to make your child's lunchbox healthier. Please include: fruit, vegetable sticks, sandwiches, wraps, yoghurts, water… Please do not include: crisps, sweets, chocolate and fizzy drinks. We will be giving out stickers to those children with healthy lunchboxes during the week.
---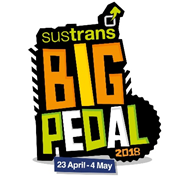 Sustrans Big Pedal 2018
Get set… we're taking part in Sustrans Big Pedal 2018, the UK's largest inter-school cycling and scooting challenge that inspires pupils, staff and parents to choose two wheels for their journey to school.
The challenge runs from 23rd April to 4th May. It's free to enter and we would love everyone to be involved.
The details
On each day of the challenge schools compete to see who can record the greatest number of pupils, staff and parents cycling or scooting to school. Our best days will determine our final position in the challenge. We'll be competing against other schools right across the UK, and if we clock up the most bike and scooter journeys we'll win!
Why we're taking part
It's a great way to get more of our pupils travelling to school on their bikes and scooters. We will be competing to become one of the UK's top schools for two-wheeled journeys and will be in with a chance to win prizes including bike and scooter stunt shows and fantastic cycle and scooter storage.
What's next?
All you need to do is encourage your child(ren) to cycle or scoot to school every day during the event, and join them on their way – parent and sibling journeys count too!
For more information about the event go to
www.bigpedal.org.uk
Enjoy the ride! Eco Club
---
Earth Hour 2018
Saturday 24 March – Lights Out At 8:30pm
WWF's Earth Hour is the biggest movement to protect our planet.
Hundreds of millions of people around the planet take part in WWF's Earth Hour every year.
Last year around 9 million took part in the UK alone.
Please mark Earth Hour by going
'lights out' for 60 minutes at 8.30pm
– as a symbolic show of solidarity for the planet.
Thank you Eco Club
---
Fairtrade:
On Wednesday 7th March Eco Club and After School Club went over to the Co-Op to learn about Fairtrade.
We looked for the Fairtrade symbol on different products throughout the shop. We found it on tea, coffee, sugar, chocolate and bananas.
We learnt that Fairtrade means the farmers / producers of the product are given a fair amount of money for their produce.
As we left, we were kindly given a fairtrade banana and a fairtrade bottle of water.
---
Birdwatching
On Wednesday 31st January we did our bird watching around the school grounds. We saw blackbirds, magpies, gulls, crows, starlings, pigeons and a pied wagtail.
We have sent our data to the RSPB.
---
Big Schools' Birdwatch
We are once again taking part in the Big Schools' Birdwatch. The Big Schools Birdwatch runs from the 2nd January – 23rd February 2018 and is an educational activity that gets every class closer to nature. Each class will spend one hour watching and collating what types of birds they can spot in our school grounds. The information collected is then sent to the RSPB to inform the wonderful work they do.
You could also join in with the Big Garden Birdwatch from the 27th - 29th January 2018.
More information can be found on their website:
https://www.rspb.org.uk
So why not put out some bird feeders and get involved!
Thank You
Eco Club
---
On Wednesday 13th December we had a special visitor join us for our Walking Wednesday - Rudolph!
All the way to school we sang Christmas Carols while following Rudolph. Thank you to Rudolph and Mrs Woodyer-Ward for joining us and to everyone who joined our walking bus.
We hope you enjoyed the Christmas coins and we wish you all a Happy Christmas.
Road Safety Week 2017
Road Safety Week runs from the
20th - 26th November 2017
. During this week we would like you all to think about and talk about keeping safe on the roads. Think about and use the Green Cross Code - Stop, Look and Listen. Talk about and use safe places to cross the road - the zebra crossing, at traffic lights, where it is clear and you can see in all directions.
Road Safety Week is the UK's biggest road safety event, coordinated annually by Brake, the road safety charity.
In the UK speeding is still a major problem. It causes needless crashes, untold suffering and stops people living safe and healthy lives. Driving is unpredictable and if something unexpected happens on the road ahead – such as a child stepping out from between parked cars – it is a driver's speed that will determine whether they can stop in time and, if they can't stop, how hard they will hit. Yet newer vehicles are more powerful than ever before and reach high speeds quickly. Driving fast is glamorised and often encouraged by programmes and adverts that worship the cult of the car. We all live busy lives and there is a temptation to speed up in the hope of saving time, where in fact we could be costing lives. That is why we are encouraging everyone to Speed Down Save Lives for Road Safety Week 2017 (20-26 November). We can all play our part in raising awareness about the dangers of driving too fast and this year's campaign will focus on:
speed causes deaths and serious injuries on our roads
rural roads are not race tracks
20mph is the only safe speed in heavily built-up areas used by pedestrians and cyclists
going slow = stopping in time
speed is scary and noisy. It stops communities being enjoyable places for children and families to walk, talk and play
speed cameras work. They save lives.
Intelligent Speed Adaptation (ISA) is an important development that is likely to be fitted to all vehicles in the future
A few facts on why our theme is important:
Breaking the speed limit or travelling too fast for conditions is recorded by police at crash scenes as a contributory factor in one in four (23%) fatal crashes in Great Britain.
Drivers with one speeding violation annually are twice as likely to crash as those with none.
A recent Brake survey found that four in 10 (40%) UK drivers admitted they sometimes drive at 30mph in 20mph zones.
Please support Road Safety Week.
---
Green Flag:
We have officially received our Green Flag Award for another two years.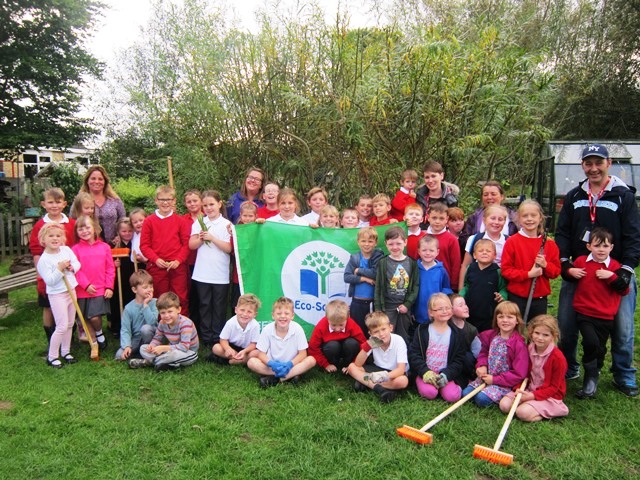 The Assessor's comment was: 'This school has a wealth of outdoor learning and the pupils obviously enjoy a vast variety of Eco activities. The Eco Club and Gardening Club are enthusiastic and knowledgeable ambassadors for environmental issues. The children are dedicated to looking after their school, local environment and village.
The Headteacher and staff are passionate about learning outdoors and the importance of developing the values of caring for the environment in the children. The Eco Action Plan and outdoor learning are an important part of the school development plan ensuring that Eco topics are included in the curriculum using the amazing school and community resources. The children have worked hard on all the Eco toipcs, sharing their skills in the local community and gaining national recognition for their hard work. They thoroughly deserve their fourth Green Flag Award. Well done.'
So well done Eco Club, Gardening Club and Forest school.