Page Updated 09.12.19
Forest School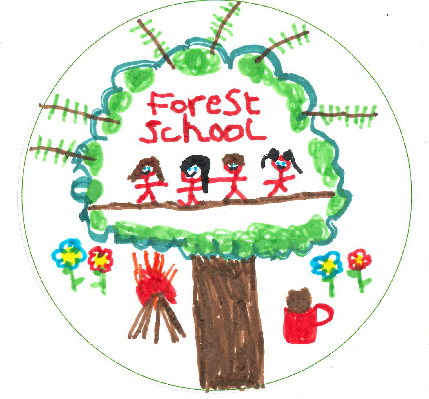 Latest Forest School News →
The Forest School Ethos
Forest School is a unique educational experience and process that offers children the opportunity to succeed and develop confidence and self- esteem through hands - on learning experiences in a woodland environment.
Children engage in motivating and achievable tasks and activities throughout the year and in almost all weathers. Children will work with tools, play, learn boundaries of behaviour; both physical and social, grow in confidence, self- esteem and motivation whilst developing an understanding of the natural world.
The Forest School concept originates in Denmark, aimed at pre-school children, where it was found that children who had attended forest school then arrived at school with strong social and communication skills, having the ability to work in groups effectively, generally has high self-esteem and confidence in their own abilities. These foundations helped children raise their academic achievements.
A Forest School encourages children to:
Develop personal and social skills
Work through practical problems and challenges
Use tools to create, build or manage
Discover how they learn best
Pursue knowledge that interests them
Learn how to manage failures
Build confidence in decision making and evaluating risk
Develop practical skills
Understand the benefits of a balanced and healthy lifestyle
Explore connections between humans, wildlife and the earth
Regularly experience achievement and success
Reflect on learning and experiences
Develop their language and communication skills
Improve physical motor skills
Become more motivated
Improve their concentration skills
Foundation Forest School - Ms Scrase's Key Person Group
For the past 5 weeks the above group have been exploring our outdoor learning area - Forest School.
During our sessions we have been learning new boundaries, following new instructions and most importantly having fun.
Each Friday morning the children and adults took a slow walk to our site, being mindful of road safety. Showing respect to the landowner by closing gates behind us.
Once at the site the children explored the different learning opportunities on offer such as using tools to create woodworking projects. Cooked on a open fire, which was a new experience for many. Created "fairy fires" using the fire steel. Listened to stories. At the end of each session the children use the "talking stick" to reflect on their play and share what they have enjoyed during each session. It's lovely to hear what the children had to say and share suggestions for the next session.
It's safe to say the children have really enjoyed their outdoor learning area. We would like to thank the parents for equipping the children in warm clothing, especially when it's been cold. Many thanks to all our Parent helpers and adults who have helped during each session its greatly appreciated.
Forest School shall continue after Christmas with a new Key Person Group.
---
October Half-Term:
What a fabulous day to be outside! During the morning we walked to Stanford House to leave our lobster pot to hopefully catch some Crayfish for lunch tomorrow ... we all had fun trying to estimate how many will have in the pot tomorrow.
We spotted Lamas in a field. Picked juicy apples from a tree and munched our way threw them everyone agreed they were delicious. We took the boat out for a little row ... then walked back to Forest School via the muddy path - which was great fun.
Back at camp we had lunch and Mrs Finney made a carrot soup which was very tasty and enjoyed by everyone.
We all agreed we had a brilliant day out at Forest School and we are looking forward to tomorrow's session.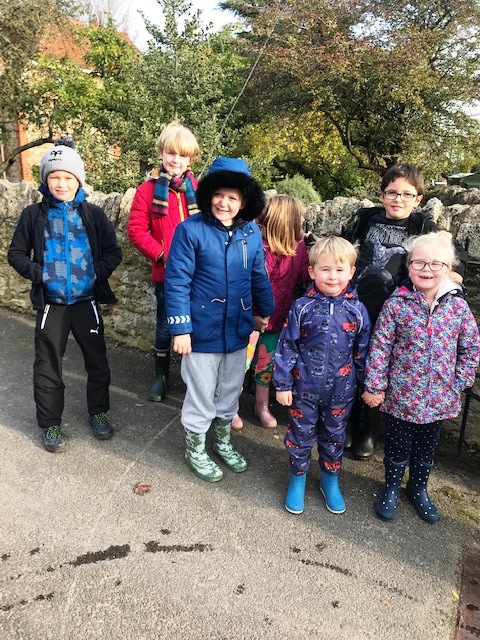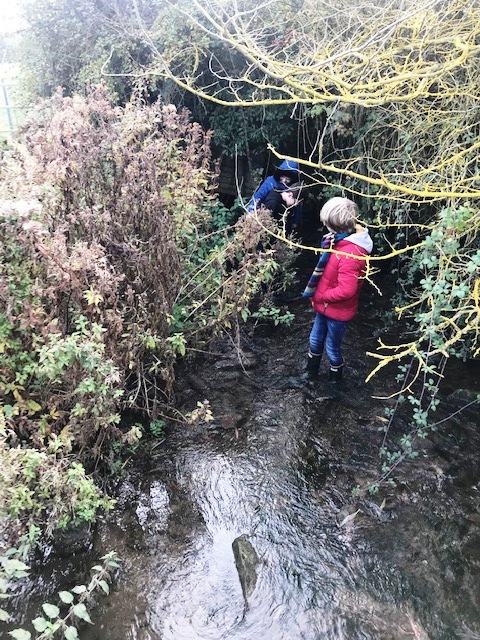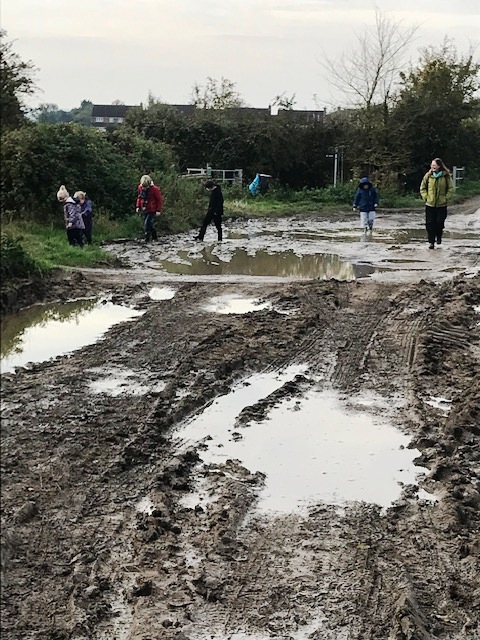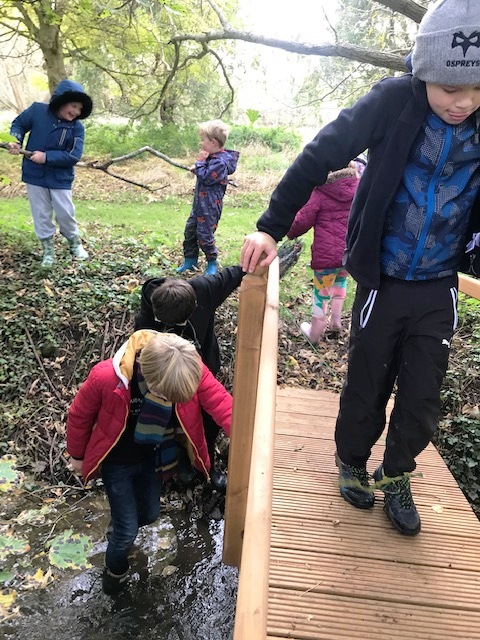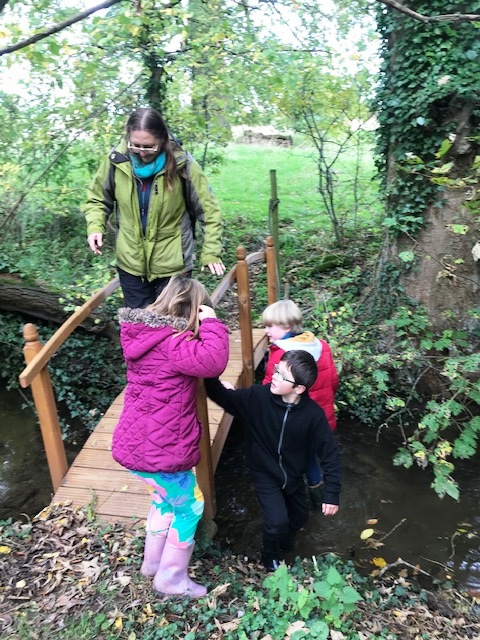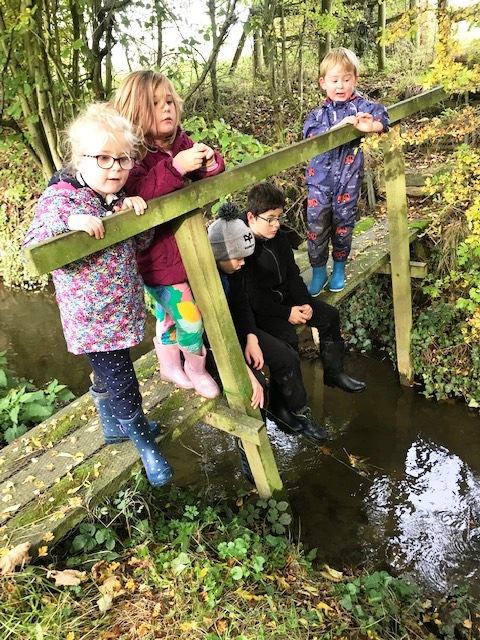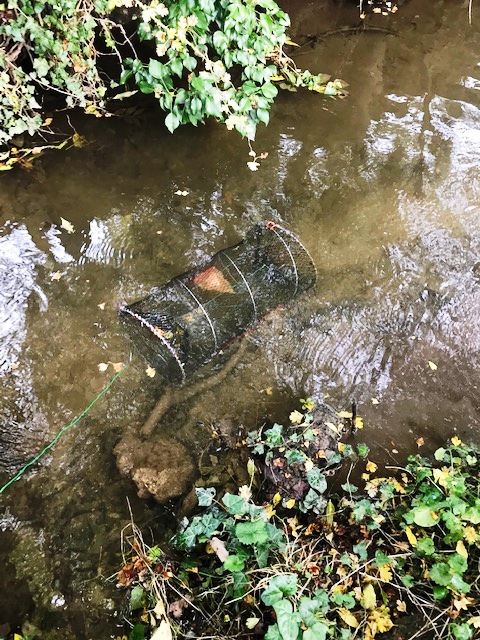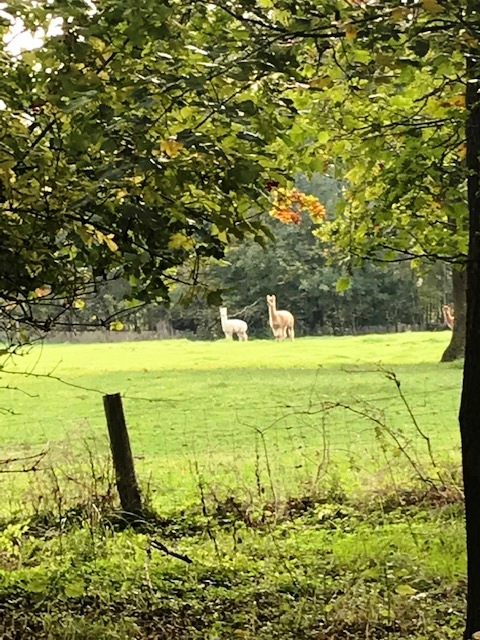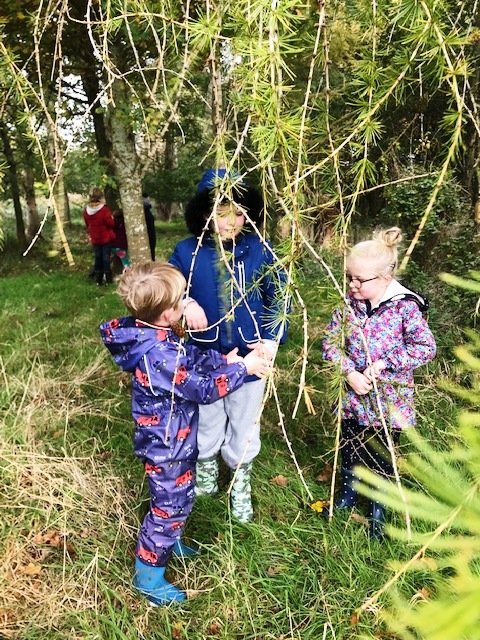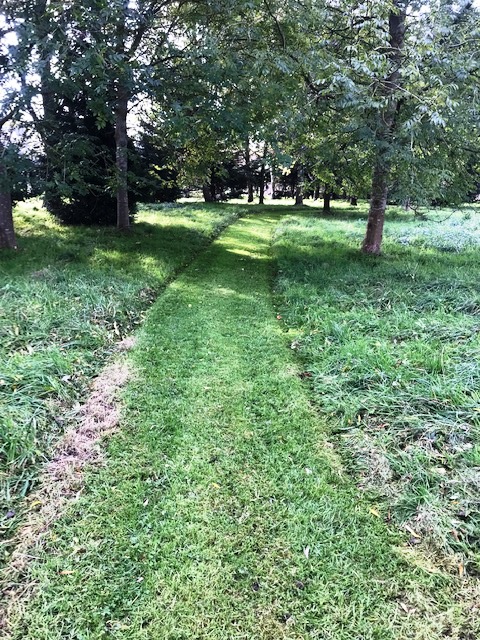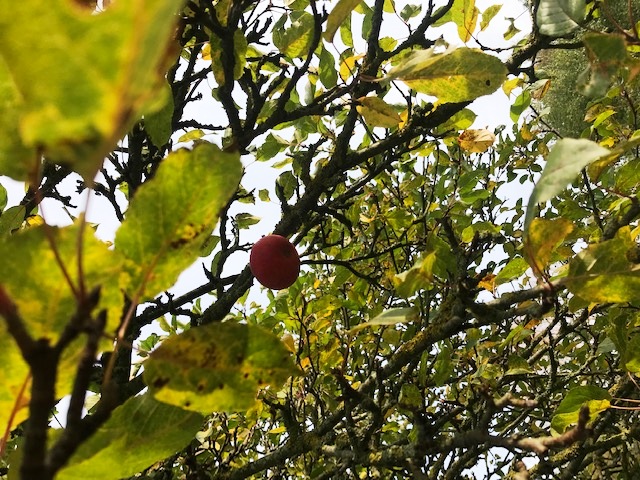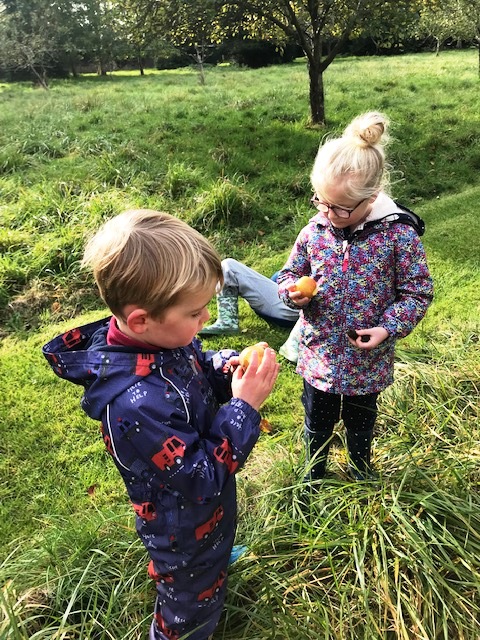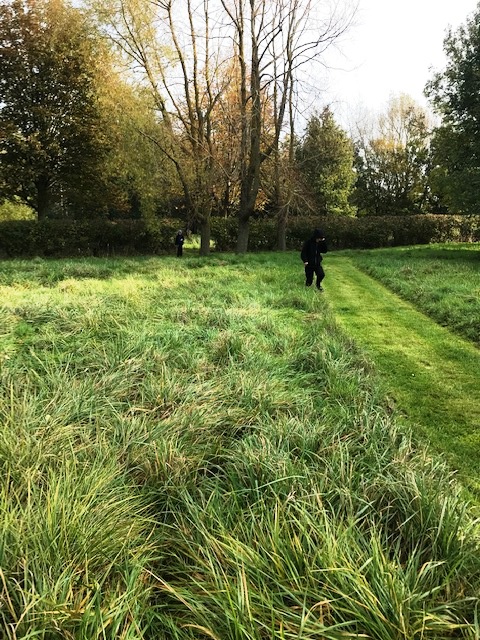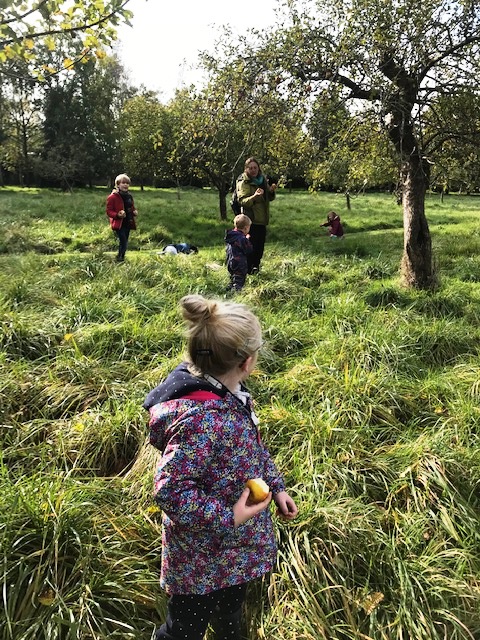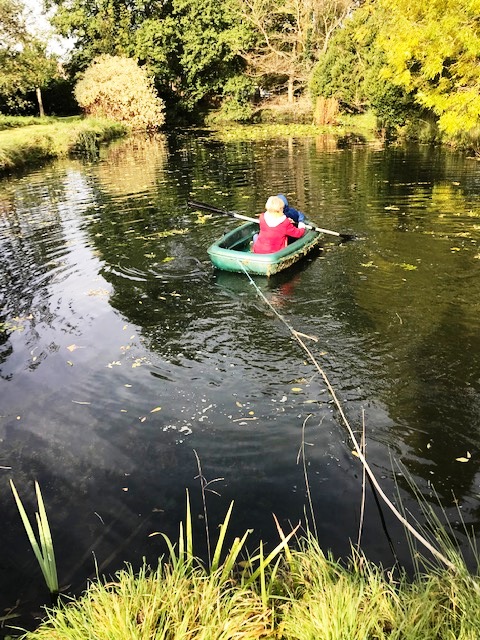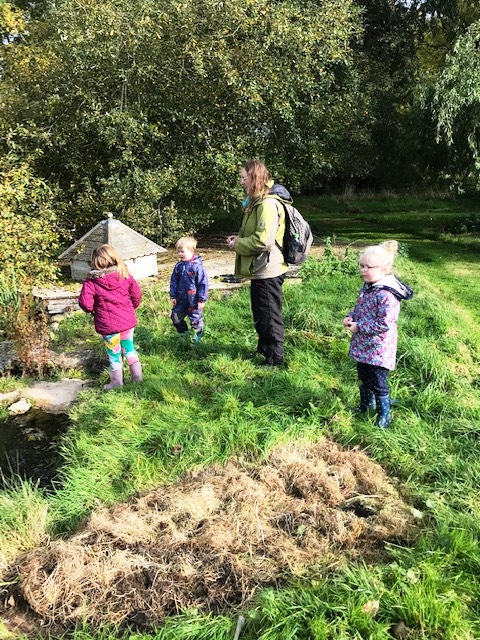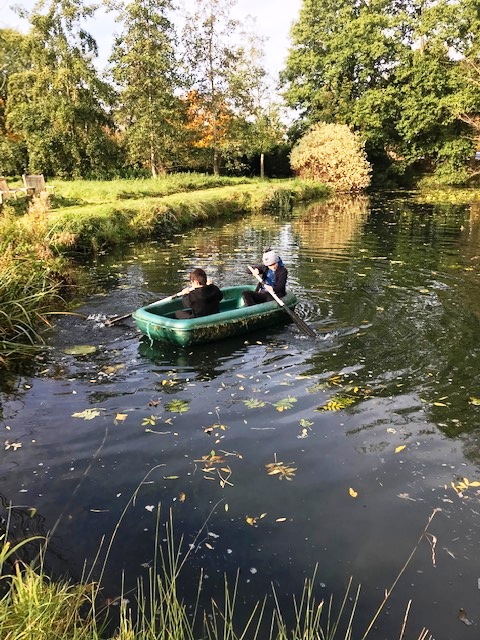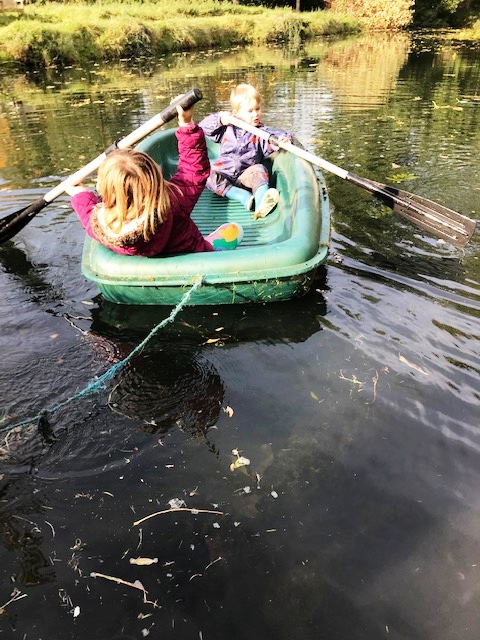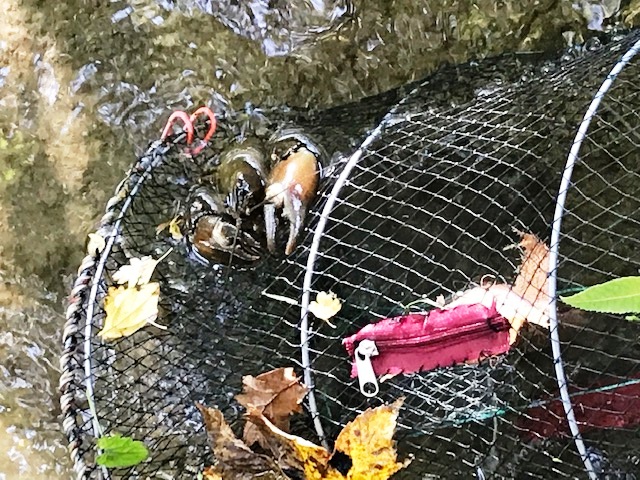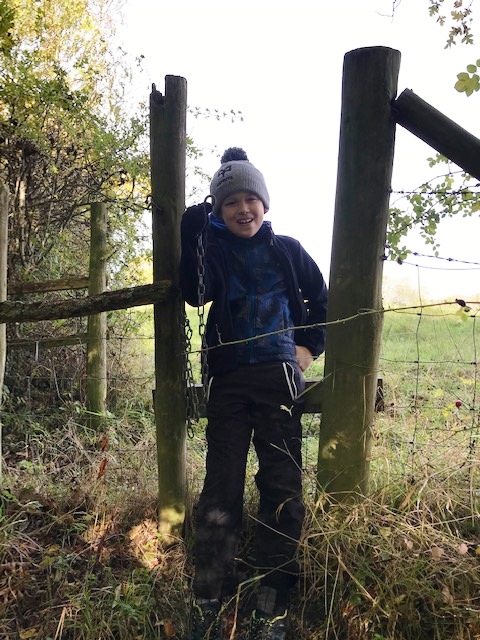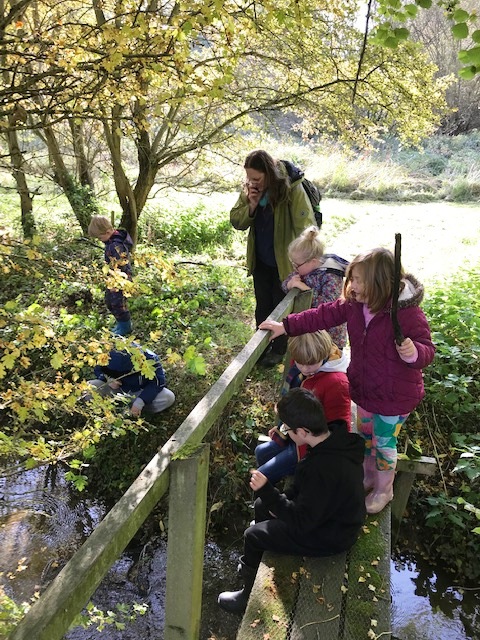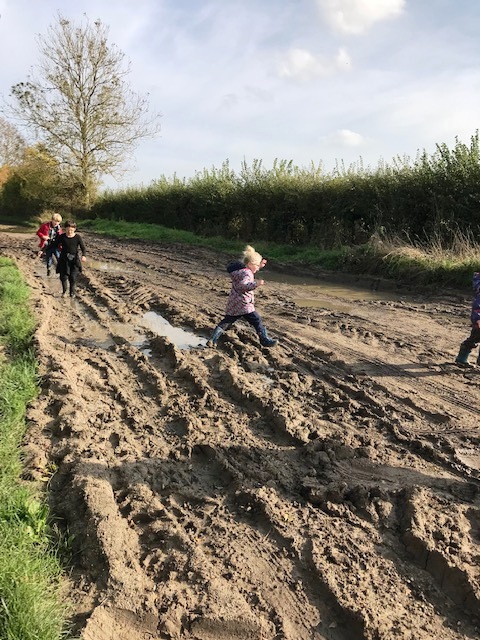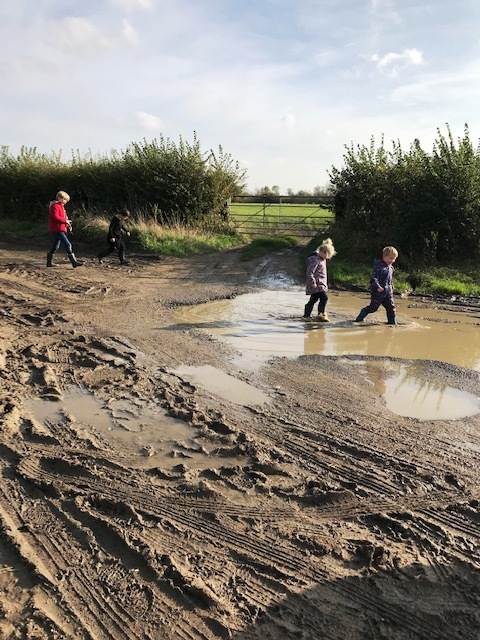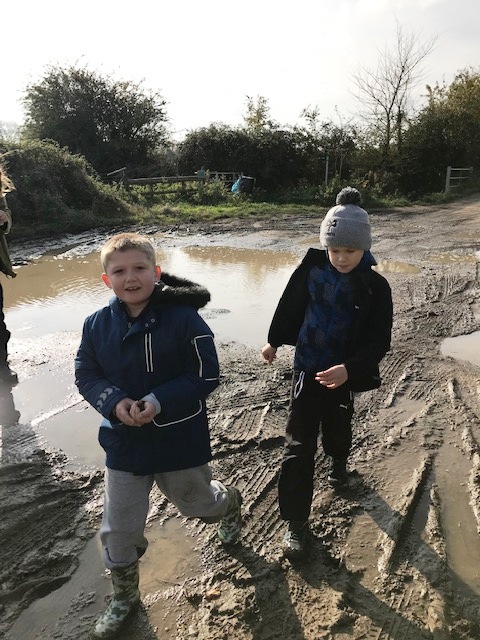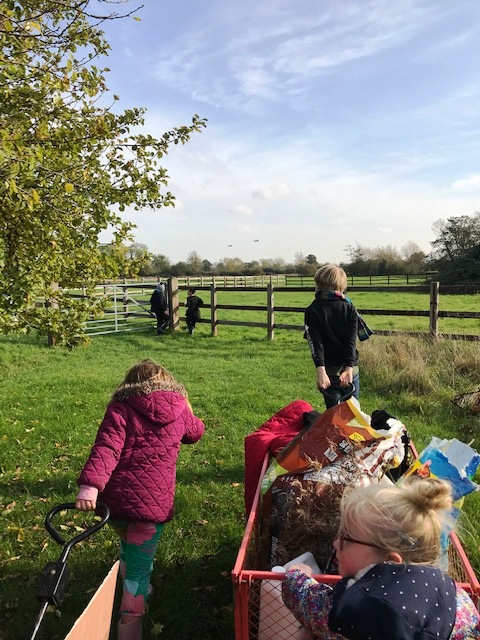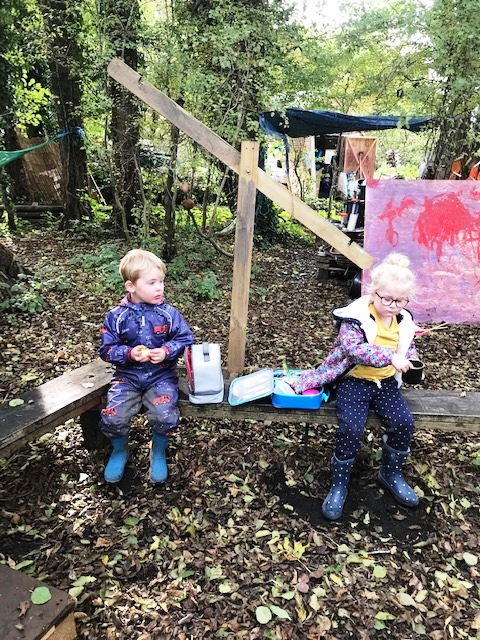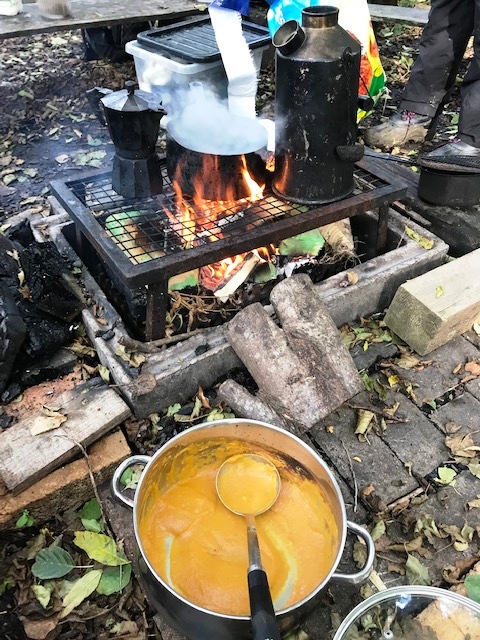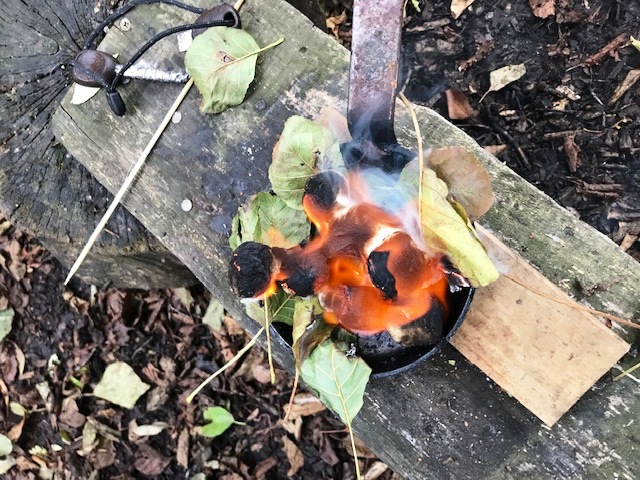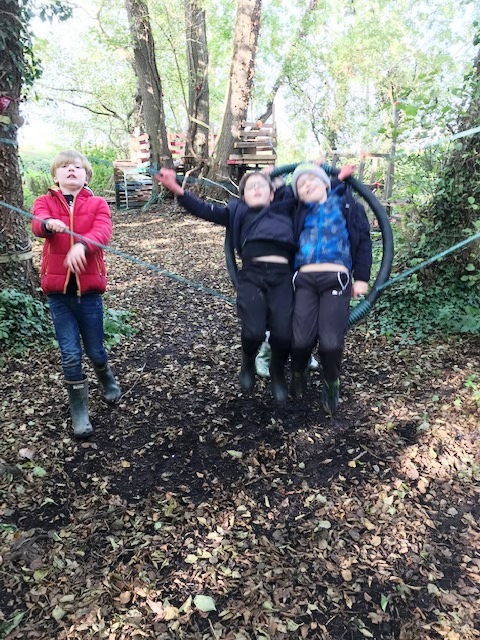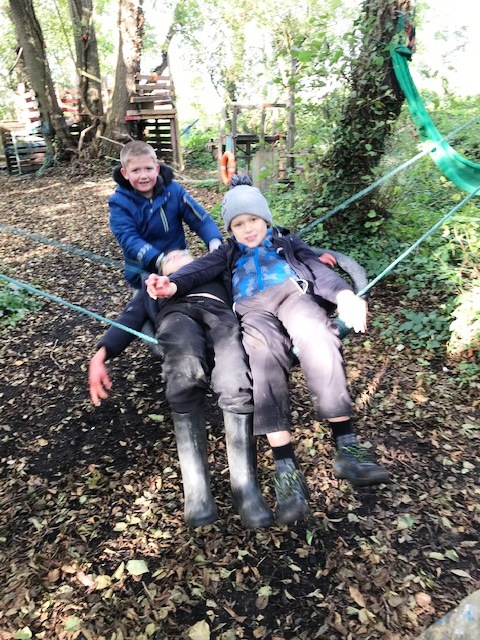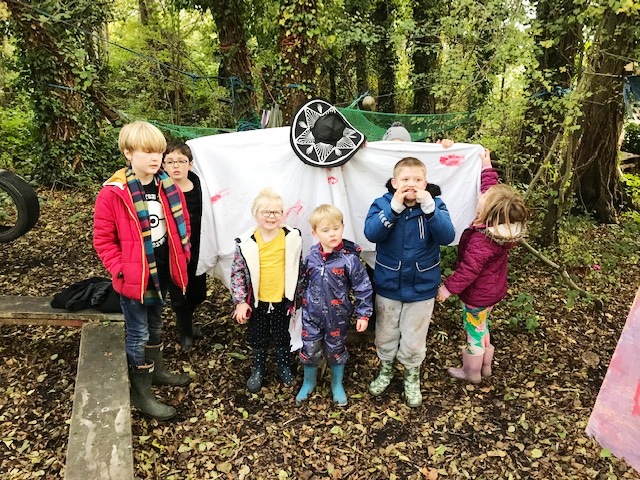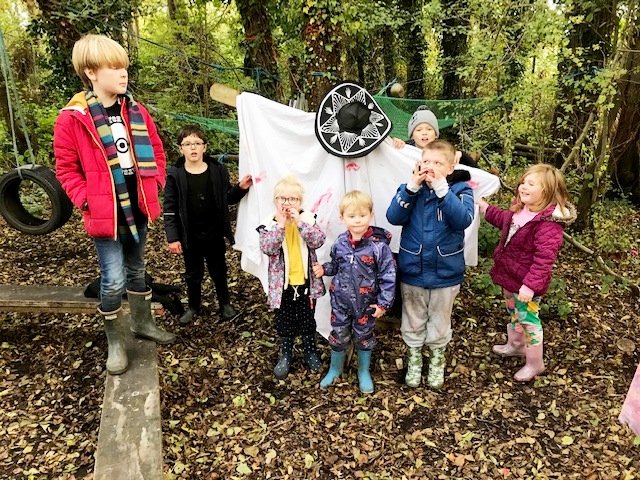 Day 2:
Another great session had by everyone.
We collected Two Crayfish this morning. During the morning we discovered pigs at Stanford House and we had lots of laughter at how they played with one another. After our walk from Stanford House it was back to our camp and lunch.
Then more play at Forest School. We ended the day at the Grange to carve pumpkins with the residents - which was great fun and everyone was pleased to see us - even though we were VERY muddy.
Everyone agreed we had a brilliant time at Forest School and everyone said they are looking forward to the next holiday club at Easter.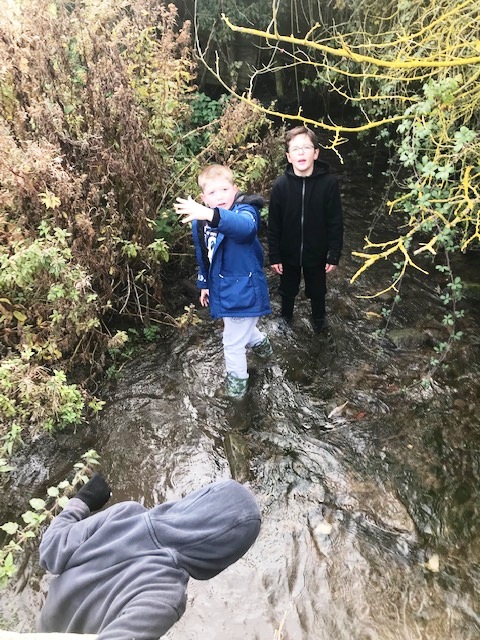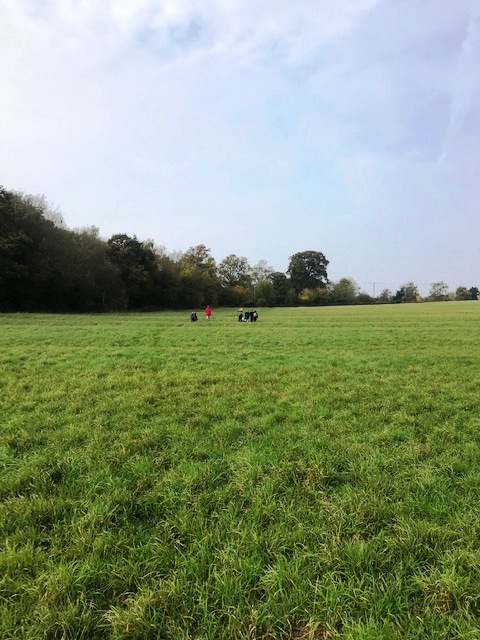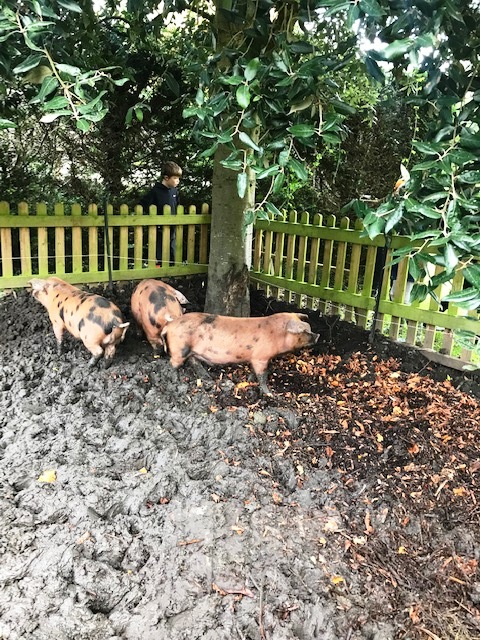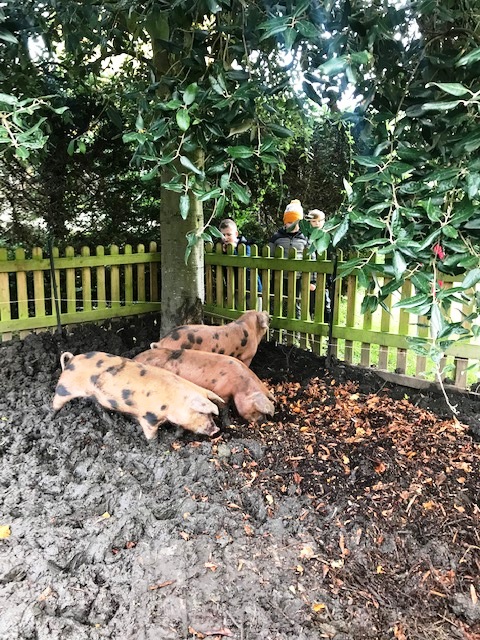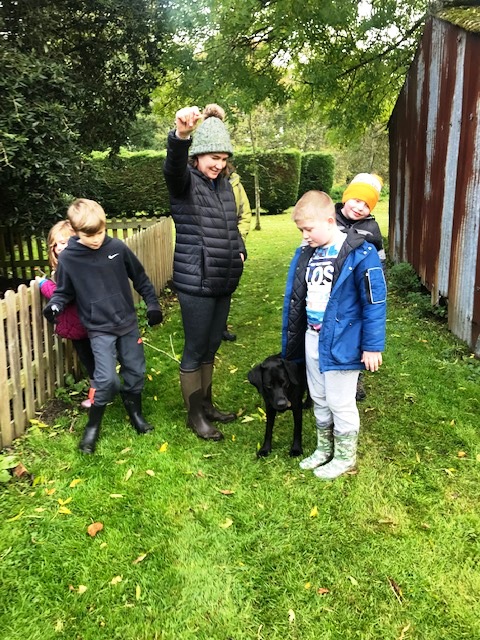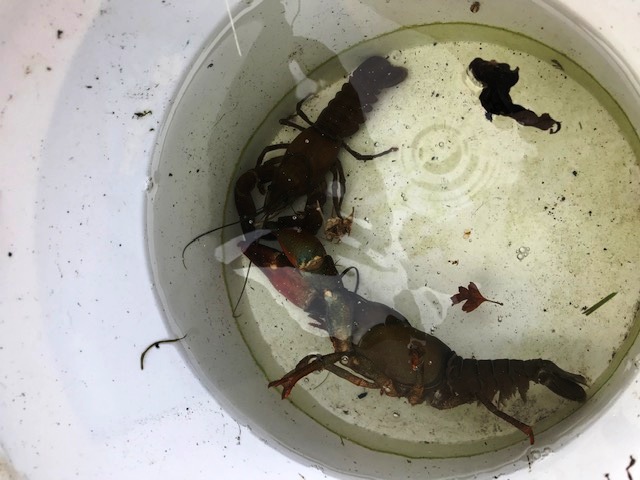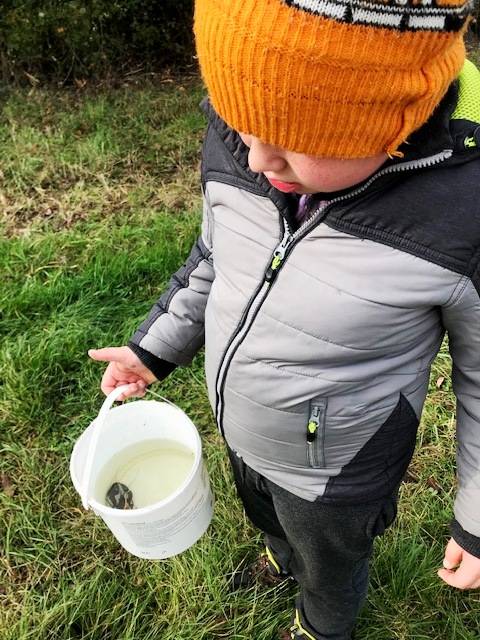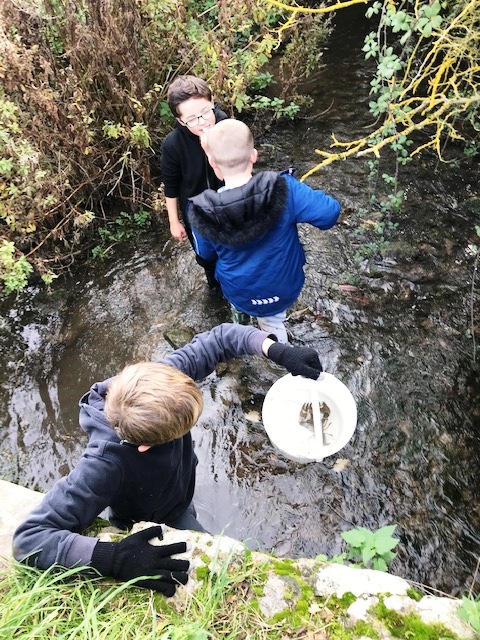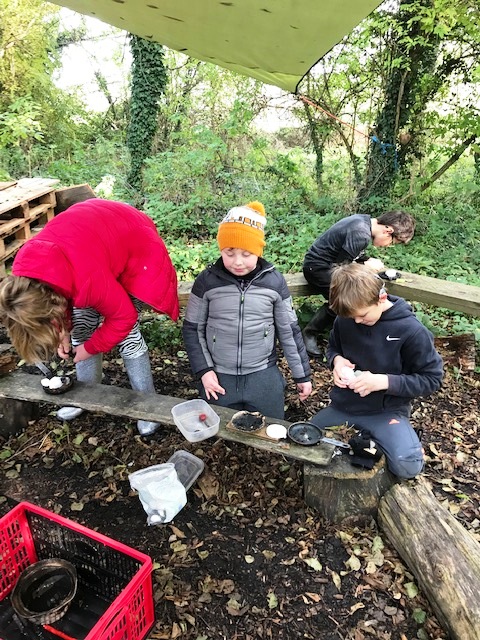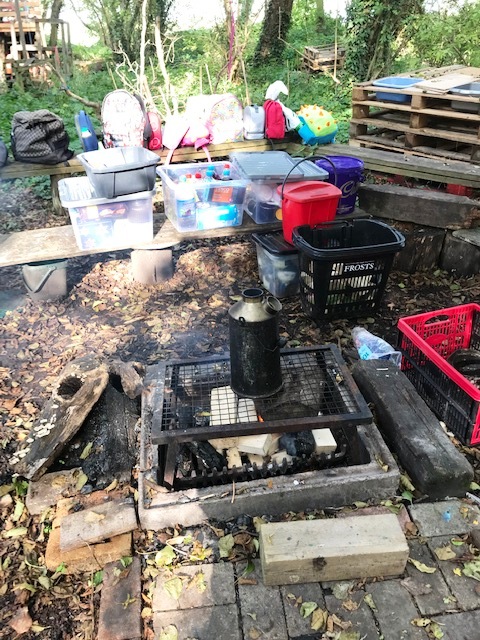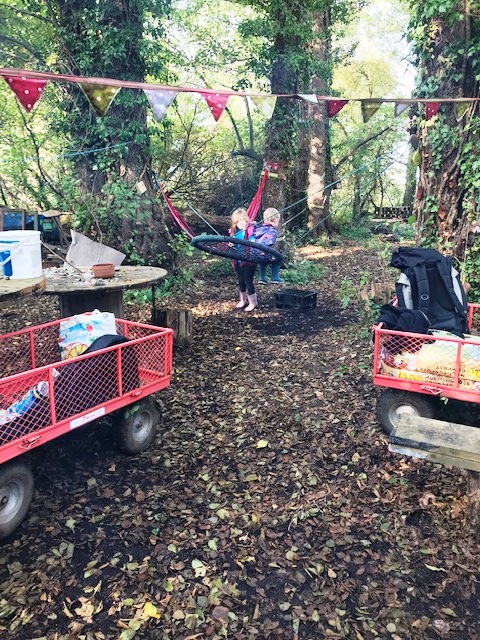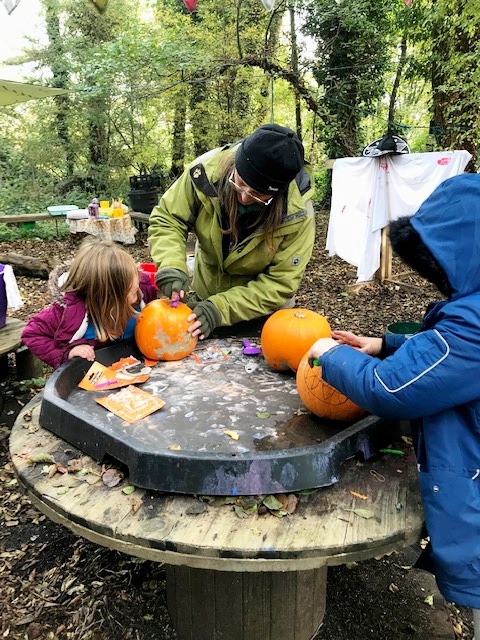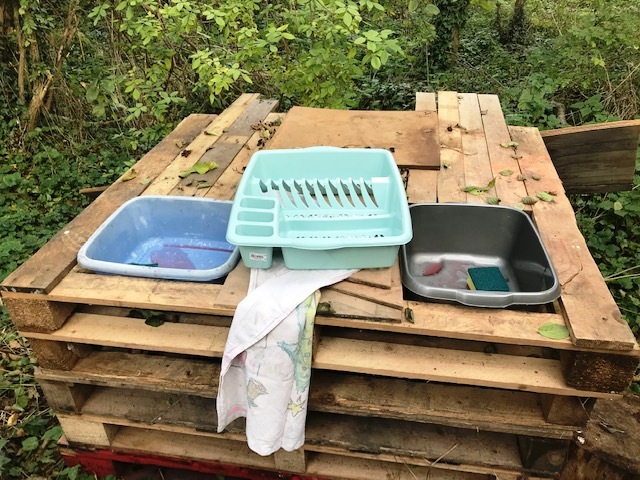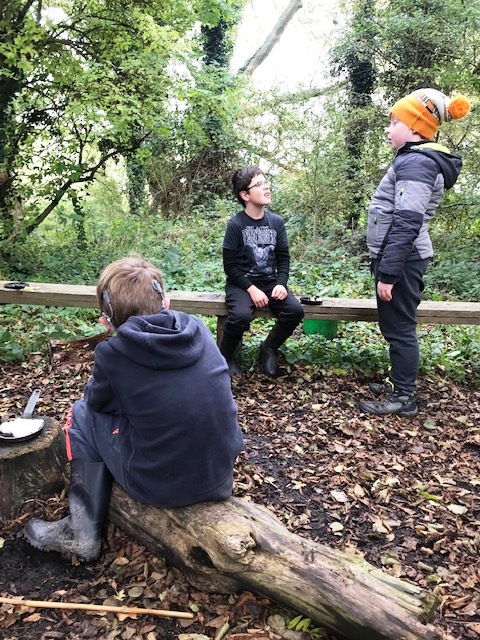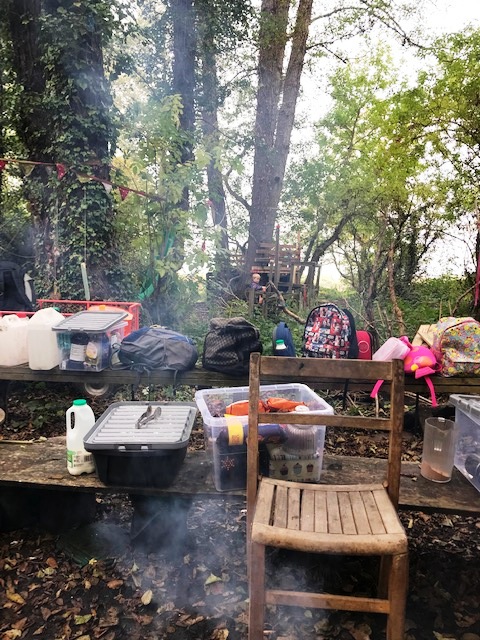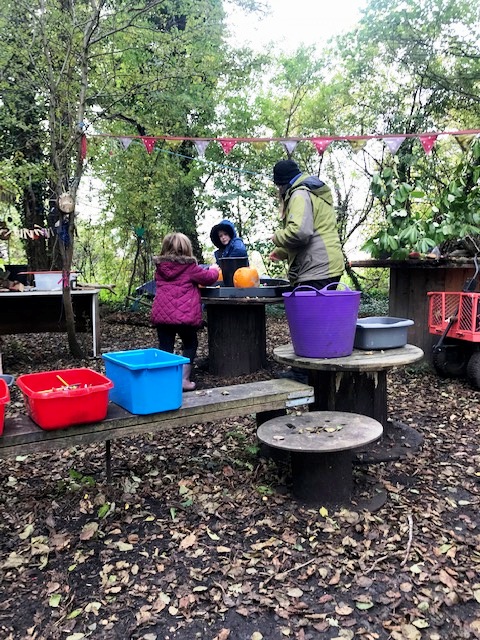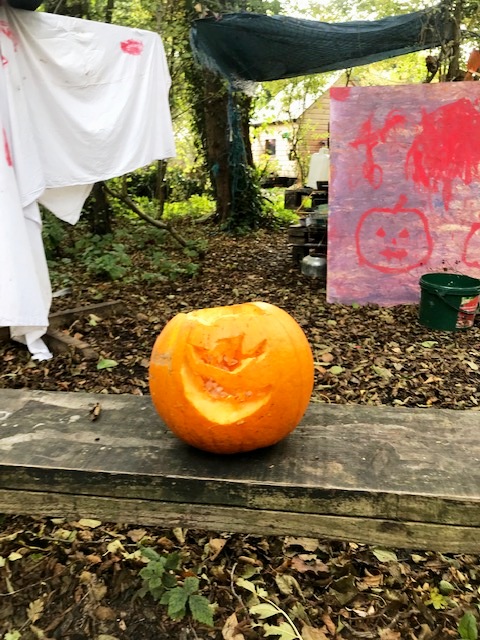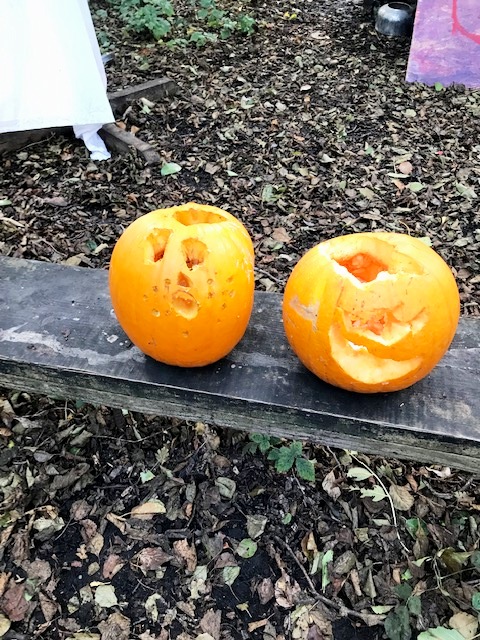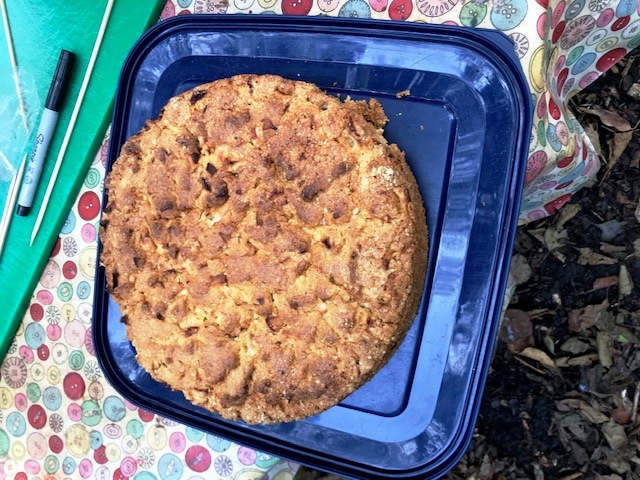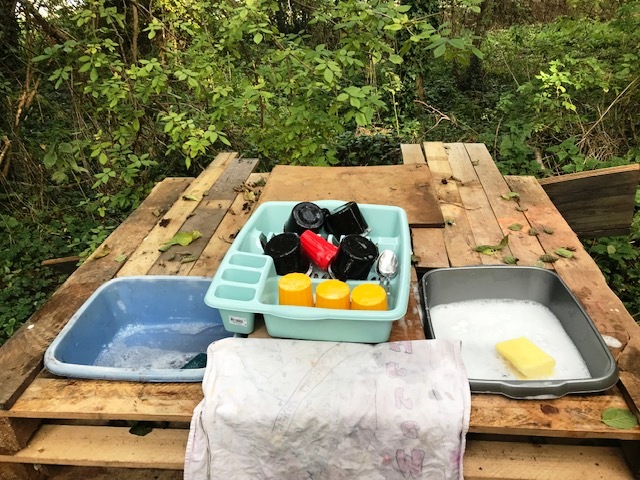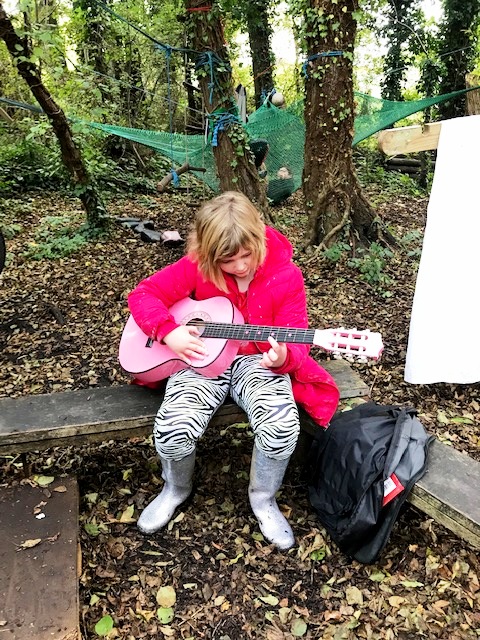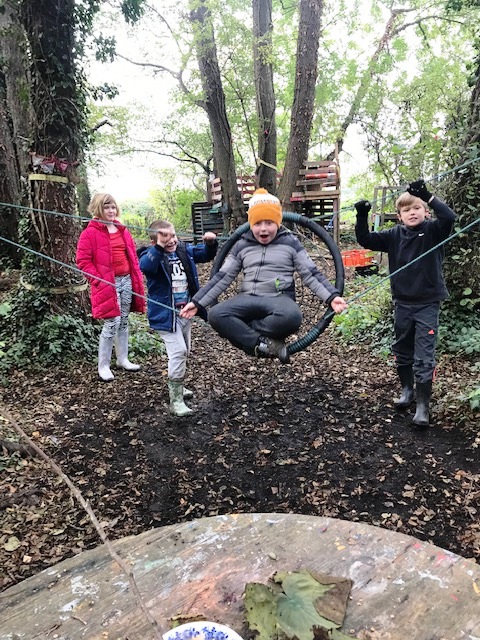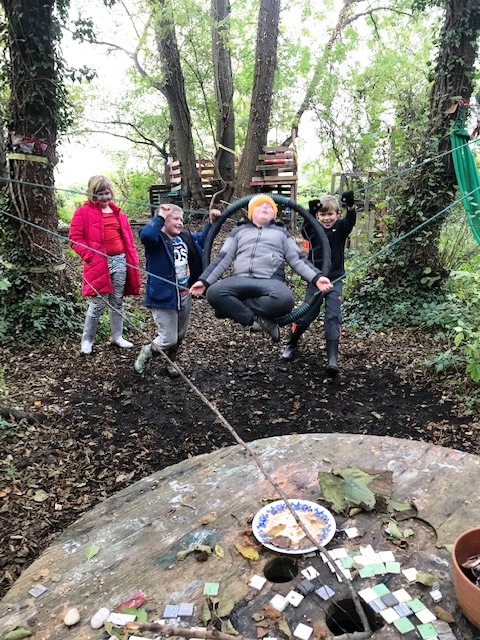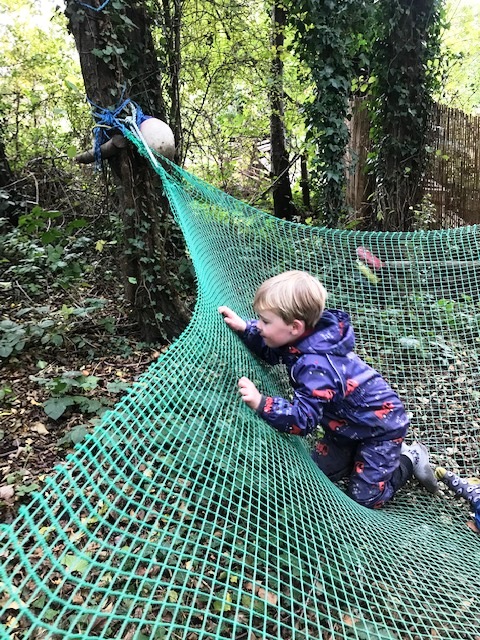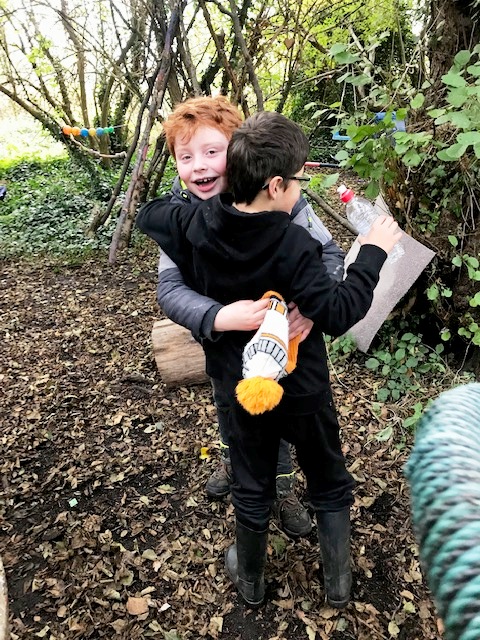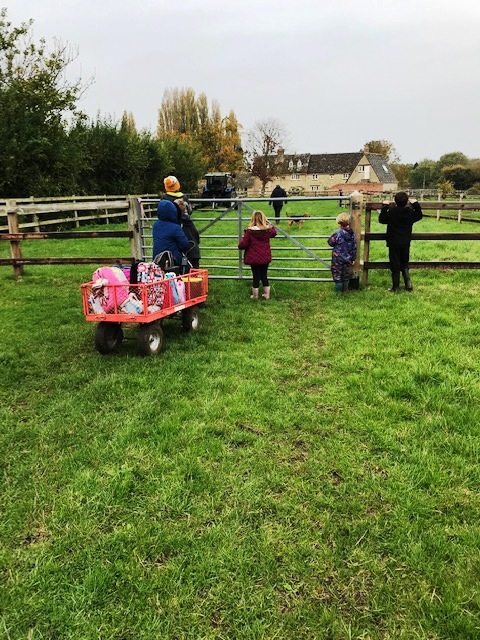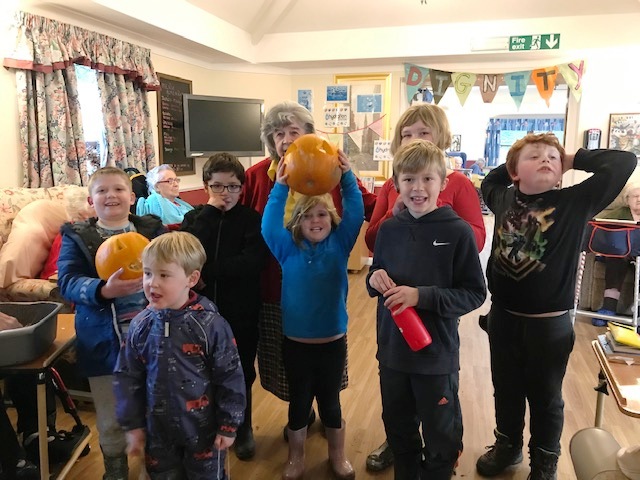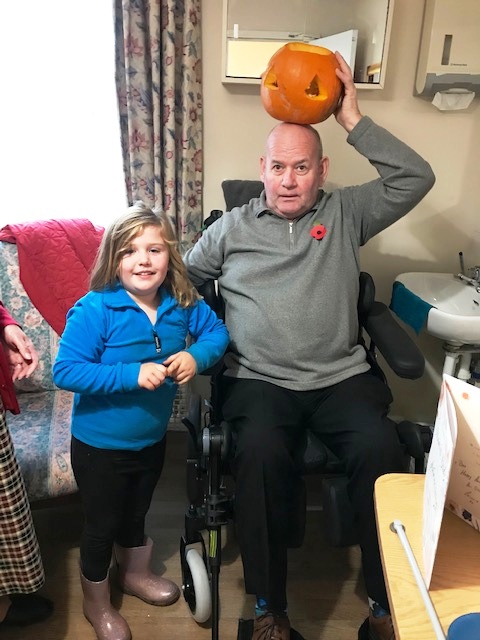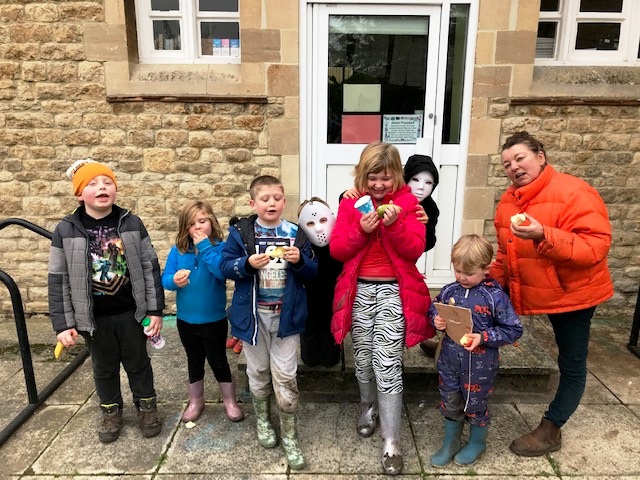 ---
Summer Fun:
During the month of August we have been exceptionally lucky to have the opportunity to use our Forest School site and Stanford House to explore, play, and create wonderful memories.
Each session has allowed different play opportunities for the individual child. Where we have used bush craft to create, make and build an array of objects. Whittled with knives to create wooden spoons, swords and fairy doors. Foraged nettles to make our very own nettle soup - it was given a thumbs up as it was very tasty and enjoyed by us all.
We have enjoyed creating our "fairy fires" which really did test the children's perseverance and determination - the joy on the children's faces when they managed to create a spark using the fire steels - priceless!
Forest School wasn't dampened by the heavy rain on one of the sessions as we displayed "team work" and managed to create a cosy shelter using the tarpaulin where we huddled together, sang songs and had our lunch.
We have enjoyed walking to the pond area via the fields and had great pleasure spotting different insects from grass hoppers, beautiful butterflies, ladybirds and so much more. During our walk to the pond we discovered blackberries and tasting them - it was evident they weren't quite ripe yet!
Once at the pond we had great fun pond dipping where we managed to catch a crayfish with one claw, a frog, water boatman and even a tiny little fish - the ponds goldfish was just too fast for us! We had great fun in the boat rowing ourselves towards the Lilly pads and singing "row row row ya boat" it's true to say we all have had a fabulous time during our Forest School sessions.
---
28th June 2019:
We had a lovely morning at Forest School - we painted our reclaimed flower pot from Evie and Harry's skip - during a discussion we have decided to grow herbs for our mud kitchen area. Thank you to Kim for the wood stepping stones we had great fun trying to get to the tree house via the logs! During the morning we had great fun making dream catchers. During our reflective feedback we all agreed we had a fun morning together.
---
13th June 2019:
Thursday 13th June - Forest School planted willow cuttings to the site - hopefully to create a willow dome. We had lots of fun cutting back the nettles, hopefully all the rain we have experienced will help to root the cuttings.
We have had great fun enjoying our new tree house to the site - Many Thanks to Evie and Harry's Dad - Tony who has built an amazing tree house structure. Under the design of the children's ideas. All the children are enjoying this new build and it's created some wonderful imaginary play ideas.
On Friday we had a very special visitor attend one of our sessions - Ollie (Mrs Cook's) son, he loved his experience with Sunflower class despite the heavy rain, it didn't dampen his spirits and enjoyed making new friends.
During the session we had great excitement using the saw to cut wood cookies - this was a first time for many children and they really took on board the safety aspect when using the saw and showed great team work in taking turns and understanding the safety aspects.
A big "Thank You" to Mrs W-W for our new compostable chamber toilets - hard to say! But the children love this new area.
We are always looking for parent / Grandparent support to enhance the outdoor learning environment for the children - if you can offer any help or support a session please see Emma in the school office.
Every Forest School session involves cooking on an open fire so we are constantly looking out for off-cuts of wood or logs to help fuel the fire. No amount too small!
---
March 15th 2019:
Due to high winds and Storm Gareth - we spent the morning exploring our village, as we went on a walk around the fields and found lots of interesting signs of Spring - it is really nearly approaching!
We spotted Forest School from behind and the excitement from the children was so happy as they never knew it had the River Ock running past the site.
We spotted lots of cheerful celandines, wild mushrooms, daffodils, hyacinths and dandelions along our walk, and we had great fun creating a land art collage.
We also had great delight in finding lots of sticks and branches that came back to school with us - ready for us to decorate! We ended our walk at the play park where we had hot chocolate and our mid morning snack.
The children all said they had a great time and for many it was there first time exploring the fields.
---