Page Updated 09.09.20
Friends of Stanford School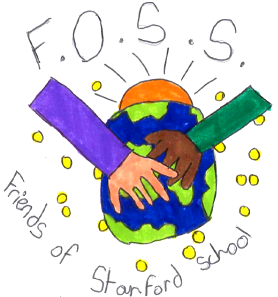 Designed by Henry
Introduction
All Parents, Guardians & Staff are members of the Friends of Stanford School and are welcome to any committee meetings.
Contact
Email:
fossbox01@gmail.com
What does the Friends of Stanford School do?
We are primarily a fund-raising body which aims to raise money for the extras that the school budget will not cover.
---
100 Club
Please support F.O.S.S in raising funds for our school by taking part in the 2020/21 '100 Club'
Revised format continues with bigger monthly cash prizes and a bonus super draw at the end of the school year.
£10 membership fee will enter your allocated number into the 10 monthly draws (Oct – July)
£30 first prize, £20 second prize for each draw and a bonus draw in July will see one prize-winner scooping £100 *
To enter, please complete the '100 Club' registration form attached and return it to the school office by Friday 2nd October
*example prize fund above based on 100 members
100 club rules reg form 2020-21
---
Smile Amazon:

Another way you can buy the things you want and support FOSS at same time is through Smile Amazon.
Go tour
login page here ↠
---

We need your help! If you shop online, please could you sign up to easyfundraising to support Friends of Stanford School (FOSS) Stanford in the Vale?
It's a really easy way to raise money for us – you just use the easyfundraising site to shop online with more than 3,600 well known online stores like Amazon, Argos, John Lewis, ASOS, Booking.com, eBay, Boden, and M&S and when you make a purchase, the retailer sends us a free donation, at no extra cost to you.
We want to raise as much as possible, so please visit our
new easyfundraising page
and click 'support us'.
Thank you

---
FOSS Committee
Mrs Di Kirkman: Chair
Mrs Karin Williams-Cuss: Vice Chair
Mrs Amy Bignell: Treasurer
Mrs Ali Viggars & Mrs Pippa Clark: Secretary
Mrs Amanda Willis
Ms Emma Payne
Mr Lee Browning
Mrs Katie Tidy
Mrs Jess Clark
Mrs Linzi Esplin
Amanda Matthews
Class Reps for 2019/20:
Foundation - Natasha Vann
Year 1 - Jenna Forth
Year 2 - Rachel Swanborough
Year 3 - Emma Richardson
Year 4 - Amanda Matthews
Year 5 - Leeanne Burgess
Year 6 - Steph Goddard
UPCOMING EVENTS 2019/2020
TERM 4
Easter Egg Trail - 27th March - 24th April
Adult Quiz night - 28th March CANCELLED
TERM 5
Foundation, KS1 & KS2 Discos - 24th April
FAMILY CIRCUS - Weds 20th May POSTPONED until 23rd Sept
TERM 6
Stanford Village Festival BBQ stall - 14th June
Sports Day Refreshments - 3rd July
Bag 2 School - 9th & 10th July
Non Uniform Day - Tombola & Cake Donations - 10th July
Schools Big Summer Fete - 11th July
Year 6 Performance refreshments - 14th & 15th July